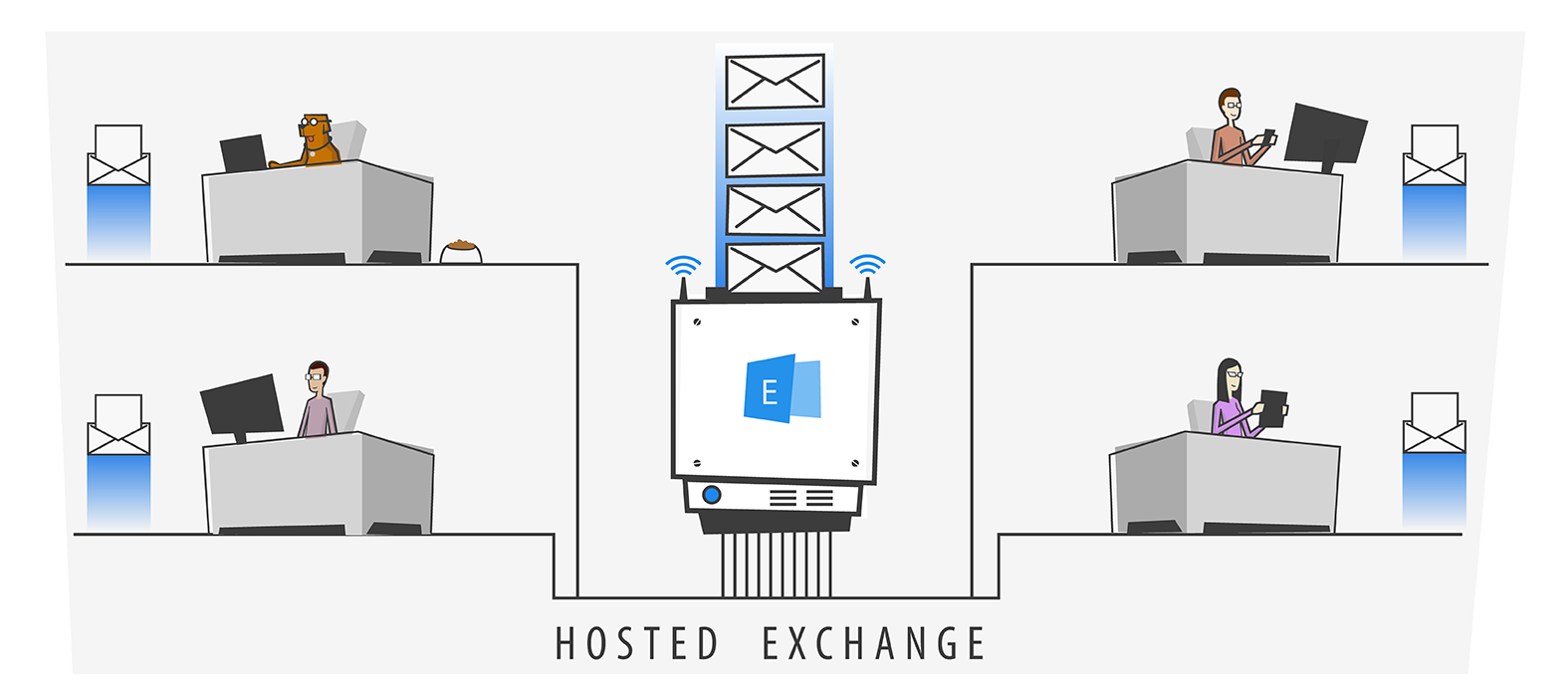 As a provider of Hosted Exchange solutions, we continue to be one of the few to offer a premium dedicated 2016 Exchange environment at an affordable price. That's just one way Kinetik IT stands out from the competition.
Your small businesses can take advantage of Hosted Exchange Service with the same features and flexibility as having a local onsite Exchange Server infrastructure. What does that mean? A savings up to $20,000 on upfront costs.
Even if you start out with simple webmail, your technology needs will grow as your business grows. We'd love to take that journey with you.
Take a look at the features you get and then give us a call.
How We Can Help
State-of-the-Art Infrastructure
Kinetik IT employs a SSAE 16 Type 2 N+1 redundant data center to support the Exchange 2016 infrastructure. What does that mean to you? It means, direct and complete control over the security, management and reliability of the service. The data center has not lost power for a single second since its inception in 1999. It is GLB, HIPAA, SOX, BSI and Safe Harbor compliant. Complete peace of mind.
Full Service Administration
Want to be in the driver's seat? We provide comprehensive self- administration tools for those who want to be involved in administration.
Email Management and SPAM Filtering
The SPAM Filtering is an industry leading, enterprise class email filtering solution that protects your inbox like no other solution on the market. Best of all our Hosted Exchange Solution includes SPAM Filtering.
»

Full Exchange Functionality with shared Contacts, Calendar, Tasks, Public Folders, Etc. (identical to a locally installed/dedicated exchange environment)

»

24/7 Support and Exchange Administration Services (call/email to add/delete users, create folders, reset passwords, etc.)

»

Secure SSAE 16 N+1 Redundant Enterprise Class Hosting Facility (HIPAA, GLB, Safe Harbor Compliant, 24/7 camera surveillance, employee back-ground checks, etc.)

»

Server, PC Workstation, Desktop, Laptop & Help Desk Support

»

Self Administration Tool allows you to create and manage users and settings

»

Industry leading Anti-Spam/Anti-Virus filtering, with full admin interface and reporting

»

Connects via RPC over HTTP (HTTPS)

»

Includes webmail and local client access
»

Includes import of Contacts and Calendaring PSTs via FTP (additional fees may apply for full mailbox import)

»

DNS (MX record) information will be provided to initiate the redirect of mail flow

»

Unlimited aliases, public folders, and distribution groups

»

Two weeks of deleted item recovery from Outlook

»

SAN level backup and recovery for 30 days (for deleted item recovery)

»

PST migration services are also available, and Blackberry Express can be added for a minimal setup charge.

»

All users will have access to exchange and spam quarantine interfaces

»

Initial account setup provided, including population of users, aliases and distribution groups

»

Service Level Agreement provided